Letter from WAPOR President (January 2022)
This post is also available in: Español (Spanish) 繁體中文 (Chinese (Traditional))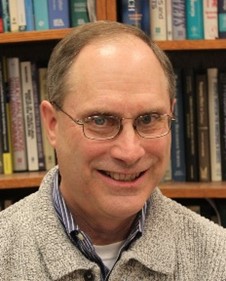 Dear WAPOR Colleagues,
Greetings as we turn the page to a new year. For me, this is always a time to reflect on life and what we have accomplished. It is also a time to look forward to the opportunities and challenges that lay ahead. Of course, one of the challenges we will all continue to face is the ongoing COVID-19 pandemic. Due to that worldwide scourge, WAPOR's 2020 and 2021 annual conferences were held virtually. While both were successful, many of us are looking forward to again gathering in person to benefit from some of those special aspects of our annual meetings that are most difficult to replicate in an online environment.
On behalf of WAPOR's Council, I am pleased to announce that our 2022 annual meeting will be held in-person in Dubai sometime later next Autumn. After considerable deliberation, Dubai was selected for several reasons. Most importantly, COVID-related risks appear to be low there and obtaining visas relatively easy. It is also easily accessible from many parts of the world. In addition, this location will enable us the opportunity to hold the meeting in conjunction with WAPOR Asia-Pacific's annual meeting, which will also take place in Dubai either before or after WAPOR's conference.
The 2022 conference will also be WAPOR's 75th and we are looking forward to special celebrations of that milestone.
Our most recent annual meeting, held this past November, was by all metrics a success. A total of 188 students and professionals registered for the conference and 161 papers were accepted for presentation. The personal achievements of a number of colleagues and students were also recognized during the meeting: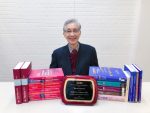 Takashi Inoguchi (at right), emeritus professor at J.F. Oberlin University in Tokyo and Director of the Asia Barometer project for the past twenty years, received the Helen H. Dinerman Award for career contributions to innovative research and methodology.
Fernanda Alvardo-Leiton (University of Michigan, USA) received the Naomi C. Turner Prize for best student paper for "Negated and polar opposite items for balanced scale construction: An empirical cross-cultural assessment."
Márcia Cavallari Nunes, Guilherme José Sanches Militão and Rosi Rosendo (Inteligência em Pesquisa e Consultoria Estratégica, Brazil) received the Elizabeth H. Nelson Prize for the best paper from a society in transition for "Evolution of seroprevalence against SARS-COV-2 in the Municipality of São Paulo, Brazil."
Anastasia Bakhareva (Highest School of Economics, Russia) received the Janet A. Harkness WAPOR-AAPOR Student Paper Award for a paper in 3MC research for "Explaining the role of values in shaping the attitudes towards government surveillance: Comparative study of 33 countries."
It was also announced at the conference that, beginning in 2022, WAPOR will be offering a new prize, the Alexis de Tocqueville Award, to a conference paper that contributes to de Tocqueville's observations and writings about democracy and public opinion. We will be sending out an announcement regarding this new award soon.
Other recent WAPOR activities include our continuing efforts to expand the National Representatives Program, which fosters inclusiveness, enables for better representation of our international community, and puts us in a better position to monitor potential threats to the conduct of public opinion research around the world. We are pleased to welcome the following individuals, who have agreed to serve as National Representatives for 2022-2023:
Aida Hadziavdic Begovic – Bosnia & Herzegovina
Aminath Riyaz – Maldives
Danill Maykovskiy – Turkmenistan
Fares Braizat – Jordan
Joan Mico – Andorra
John Krishnadath – Suriname
Joseph Davis – Barbados
Julio César Diaz – Guatemala
Mahfoudh Hajji – Algeria
Mary King – Trinidad and Tobago
Mavlyuda Esthukhtarova – Uzbekistan
Mohammed Addahri – Yemen
Rabih Haber – Lebanon
Rodney Romero – Honduras
Sam Ojo – Ghana
Overall, more than 80 countries and regions now have WAPOR National Representatives and we will continue our work to insure that as much of the world as possible has professional representation. I wish to acknowledge the efforts of WAPOR Council members Kseniya Kizilova and David Jodice, who have worked tirelessly to expand this program, and send a special thank-you to all National Representatives who are now serving WAPOR. You can find a complete list of them here.   
Early in 2022, WAPOR will be launching its Freedom to Publish 2022 project in collaboration with ESOMAR. The plan is to expand coverage far beyond what was achieved in previous Freedom to Publish surveys (you can view several of those here) to insure that as many as 195 countries are represented in the report. Several subcommittees of WAPOR's Professional Standards Committee have been working throughout 2021 in preparation for this project, which will engage all of our National Representatives, along with numerous other national level informants around the world. You can expect to see the findings presented at the 2022 WAPOR Conference in Dubai.
The new year will also see some transitions on WAPOR's Council. I am very pleased to announce that Yulia Baskakova will be joining as Secretary-Treasurer on January 1. In that role, Yulia will also become a member of WAPOR's Executive Council, so she will be attending many meetings starting soon. At the same time, Jibum Kim will be stepping down as WAPOR Publications Chair. We are particularly grateful for Jibum's leadership in completing the successful search for our new IJPOR Editor this past year and his presence on the Council will be greatly missed. The timing of this transition, though, is good for Jibum as he begins service as President of the WAPOR Asia-Pacific regional chapter at the same time. WAPOR's Council will also be experiencing an internal transition, as Henning Silber moves from the position of Secretary-Treasurer to Publications Chair. We anticipate he will be bringing the same eye-for-details to his new Council responsibilities. All members of the Council look forward to our continued service to WAPOR and our profession as we enter the new year.
Finally, on a personal note, I am pleased to share with you that the family of WAPOR's General Secretary  – Sergio Wals – welcomed a new member on December 16: Mateo Arnett Barton Wals. Mateo arrived at 7 lbs, 9 ounces, and 20.5 inches in length. I can't think of better news as we close out the year.
Wishing you the best and hope we can all connect in 2022.

Timothy P. Johnson
WAPOR President