October 2021 – Electoral Surveys in Central and Eastern Europe
Slides are available below, watch the video replay HERE.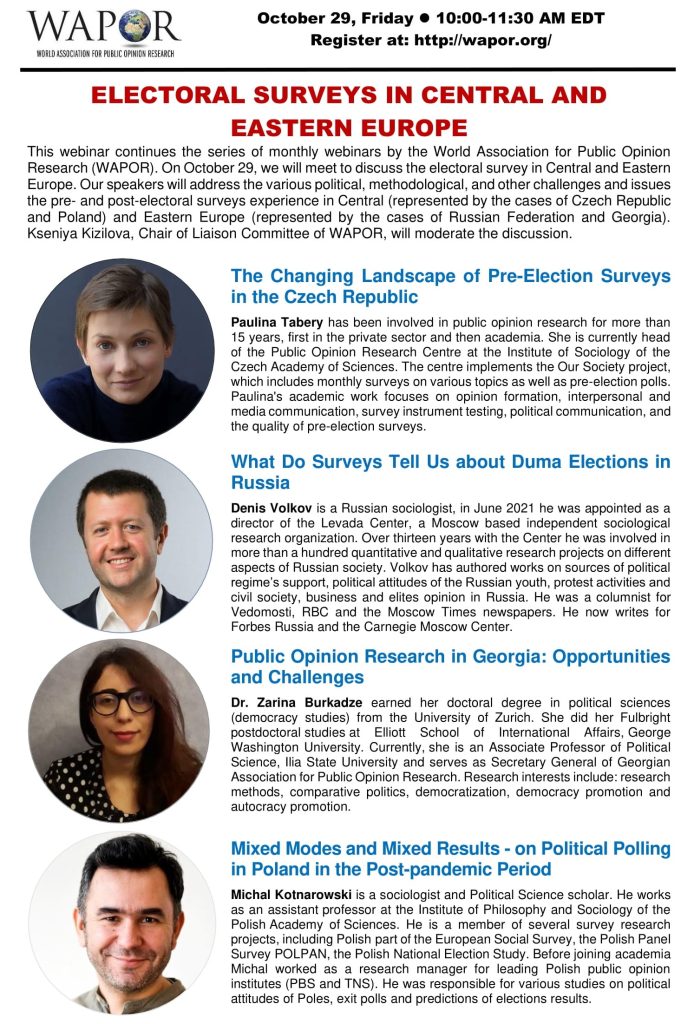 Paulina Tabery SLIDES
Denis Volkov SLIDES
Zarina Burkadze SLIDES
Michal Kotnarowski SLIDES
WAPOR has set up a program of webinars, open to the public. We will have three types of webinars: Thematic webinars, regional webinars and methodological training. 
May 2021 Webinar – Mixed-Mode in Survey Research: Why and How to Implement It
April 2021 Webinar – Public Opinion Perceptions of Social, Economic, and Political Challenges in Latin America
March 2021 Webinar – Adapting Push-to-Web Survey Designs for Use in Different Countries and Situations
February 2021 Webinar – Electoral Polls in Difficult Times
November 2020 Webinar – WAPOR-GBS Joint Webinar: Pandemic, Governance, and Comparative Public Opinion Research
September 2020 Webinar – Advances in Comparative Survey Methods
July 2020 Webinar – Mixed Mode and Mixed Device Surveys: Why, When, and How
June 2020 Webinar – COVID-19: How We Ask Questions, Collect the Data and What Do We Learn? 
May 2020 Webinar – Changes in Survey Research in Times of COVID-19
September 2019 Webinar