WAPOR 76th Annual Conference
19-22 September 2023 ● Salzburg, Austria
The World Association for Public Opinion Research is delighted to announce that our 76th Annual Conference will take place on September 19-22, 2023 in Salzburg, Austria. This year's WAPOR annual meeting will be hosted and co-organized by the Paris Lodron University of Salzburg. The 2023 conference will be conducted in person. The event will be hosted by the Department of Sociology and Social Geography, with the preparations led by the Local Conference Chair Prof. Wolfgang Aschauer and WAPOR Conference Chair Prof. Holli Semetko (Emory University, USA). 

Conference Theme:

​

Public Opinion Research in a Technology-Driven World
​Although the availability of internet access remains far from adequate in many low-income countries around the world, internet technologies have transformed the practice of politics and commerce in the societies in which they are used, with consumers, candidates, parties and politicians interacting online. Affordances (such as sharing, liking, commenting, and a range of emotions) provided by social media platforms provide massive amounts of data for research on public engagement with information online. Misinformation — false information and fake news especially in the context of disasters, crises and elections — remain a problem online and off in many countries.  The internet is just one example of a technology driving commerce and social change. Next to sea level rise and climate change mitigation, artificial intelligence (AI) and quantum computing present the greatest challenges to global governance.  
Given the challenges and opportunities for society presented by rapidly accelerating technologies, what does the latest public opinion research tell us about the issues of importance today? What can we learn from public opinion and elite opinion over time?  What are the latest developments in public opinion research, misinformation, and the study of campaigning and voting behavior? What threats do non-probability samples and AI pose to public opinion research and election forecasting?  What are the challenges and opportunities in big data analytics — topic modeling, sentiment scoring, image analysis?
The 2023 conference theme is broad. It includes many newer topics relevant to public opinion research including e-voting, e-deliberation, e-panels, mixed mode studies, AI, social media research and methods, technologies and the UN's sustainable development goals, as well as longstanding 'classical' public opinion research topics of importance such as electoral studies, freedom to publish polls, the quality of public opinion research around the world, traditional media research, and more. 
The upcoming conference presentations, posters, and panels will include topics related to substantive public opinion research and survey methodology, including qualitative methods. Examples of topics include, but are not limited to:
Public opinion and public diplomacy
Public opinion, policymaking and survey research
Public opinion, elections and voting
Political behavior, participation and culture in survey research
New sources of information on public opinion and the use of social media
Public opinion and misinformation
Artificial Intelligence (AI) challenges in public opinion research and survey methods
Public opinion and virtual reality
News, media, journalism and public opinion
Advertising Online, Media and Audience Research
Digitalization and new sources of information in survey research
Survey research applications
E-voting, e-deliberation, e-panels
Comparative research and International Survey Projects
Cross-cultural concerns in data collection and measurement issues
Big data, sentiment analysis and machine learning
Data visualization, new technologies and online surveys
Best practices for stakeholder research and expert surveys
Panel, longitudinal and national monitoring surveys in policymaking
Methodological challenges and improvements in the areas of sampling, measurement, survey design and survey response or non-response
Qualitative research
​Abstracts submission
Abstract submission instructions for the 2023 WAPOR conference:
Proposals for the conference should be submitted electronically by April 3o, 2023 [Extended Deadline]. Only proposals submitted through the conference platform will be considered: https://2023-wapor-annual-meeting.events.wapor.org/.
WAPOR 2023 conference will be held in in-person; both presenters, co-authors and audience are required to attend in person.
​To be able to submit a proposal, you must be signed up for a free account at the WAPOR portal (if you are a WAPOR member, you will be asked to enter your usual login and password). However, you do not need to be a WAPOR member to submit a proposal.
In case of proposals featuring multiple co-authors, only the main author (or the presenter) should submit the paper proposal (one time). Co-authors (if any) should be listed during the abstract submission, but they should not submit the same abstract again.
To maximize participation in the WAPOR conference, the number of times any individual can appear as speaker in the final program is limited: any individual can present only one paper. Should you appear as a co-author in multiple papers, please, make sure that other co-authors will attend the conference to present your joint research. 
The following types of submission are accepted: research papers in oral format; poster presentations in oral format (authors are required to bring a printed poster themselves); pre-organized panel proposals. Paper and poster presentations can have up to 10 co-authors; pre-organized panels need to have a chair and can include 4-6 papers. 
Individual papers will be organized in panels with 4-6 presenters per panel. All poster presentations will take place at the same time, in a format of a networking-style parallel session. Posters can be exhibited at the conference venue during the whole conference duration.
Pre-organized panels should comprise of several submissions: first the convener/ chair needs to submit a panel proposal, then every every presenter needs to submit their abstract individually, indicating the title of the panel where the abstract belongs. All-male panel proposals are not permitted.
All abstracts should not exceed 500 words. All submissions must be in English, and all accepted works are to be presented in English.
WAPOR does not request uploading full papers; if you wish, you can share your full paper text with other panel participants by email prior to the conference.
Should you have any questions or face any technical issues during the submission, please, contact waporoffice@gmail.com.
Key-note Speakers
WAPOR is delighted to announced our key-note speakers at this year's conference:
Claes H. de Vreese is University Professor of Artificial Intelligence and Society (2021-), with a special focus on media and democracy at the University of Amsterdam. He holds the Chair in political communication at the Amsterdam School of Communication Research ASCoR. He (co-)directs the UvA Platform Information, Communication and the Data Society (ICDS), including the Research Priority Areas Communication, Personalised Communication, and Human(e) AI. He is the founding Director of the Center for Politics and Communication (www.polcomm.org). He is also Chair of Social Sciences in the Danish Institute for Advanced Studies DIAS and founding, incoming (2021) Scientific Director of the Digital Democracy Center at the University of Southern Denmark. He is member of the ICA Executive Committee and served as President 2020-21.
Frauke Kreuter is the Chair of Statistics and Data Science at LMU Munich, Germany and at the University of Maryland, USA, she is Co-director of the Social Data Science Center (SoDa) and faculty member in the Joint Program in Survey Methodology (JPSM). She is an elected fellow of the American Statistical Association, and received the Warren Mitofsky Innovators Award of the American Association for Public Opinion Research in 2020. In addition to her academic work, Professor Kreuter is the Founder of the International Program for Survey and Data Science (IPSDS), developed in response to the increasing demand from researchers and practitioners for the appropriate methods and right tools to face a changing data environment; Co-Founder of the Coleridge Initiative, whose goal is to accelerate data-driven research and policy around human beings and their interactions for program management, policy development, and scholarly purposes by enabling efficient, effective, and secure access to sensitive data about society and the economy; and Co-Founder of the German language podcast Dig Deep.
Reinhard Heinisch is Professor of comparative Austrian politics and head of the Department of Political Science and Sociology at Paris Lodron University of Salzburg. His research and teaching focuses on questions of democracy, comparative populism, Euroscepticism and the behavior of political parties. His research has appeared in over 60 publications, including leading international journals such as the Party Politics, West European Politics, Democratization, Comparative European Politics and many others. He is author and editor of 8 books including The People and the Nation: Populism and Ethno-Territorial Politics in Europe (Routledge 2019). He has served as a consultant to various organizations and government agencies, including the U.S. Department of State, the Austrian Federal Ministry of Defense, and The Salzburg Global Seminar. Heinisch is the recipient of the Austrian National Prize for Science by the Lupac Foundation of the Austrian Parliament. He has directed several research projects and serves currently as the team leader of an EU funded Horizon2020 project, "PaCE" to study the rise of populist politics.
Available Paper Awards
WAPOR awards and prizes are intended to recognize significant accomplishments in the Public Opinion field. Specifically, we encourage future advancements through student awards and yearly accomplishments for exemplary papers and presentations at the annual conference. You can find out more about these prizes HERE. If required, full papers must be submitted electronically to waporoffice@gmail.com by the deadline of July 31, 2023 (by 11:59 pm ET).
Sponsorship
WAPOR 76th annual conference is a great opportunity to showcase your products and services to key decision makers in the international survey and public opinion industry. It also provides the opportunity to meet colleagues, share the latest best practices, and promote survey innovation throughout the world. It's also a fantastic opportunity for us, as an organization, to show our members which organizations support the mission and ideals of WAPOR. Take a moment to look at this year's sponsorship prospect (Sponsorship prospect 2023). More information on the available sponsorship packages, exhibition and underwriting opportunities is available at the WAPOR website. If you have an idea for an exclusive underwriting opportunity that is not listed, please contact WAPOR Executive Director Dr. Kseniya Kizilova at waporoffice@gmail.com.
WAPOR Conference Committee 2023
Chair: Holli Semetko, Emory University, USA
Members:
Wolfgang Aschauer, Paris Lodron University Salzburg, Austria
Susan Banducci, University of Exeter, UK
Asaph Young Chun, Seoul National University,  South Korea
Yashwant Deshmukh, C-Voter, India/ UAE
Timothy Johnson, University of Chicago, USA
Kseniya Kizilova, Executive Director of WAPOR, Austria
Conference venue: University of Salzburg – UniPark Nonntal at Erzabt-Klotz-Straße 1, 5020 Salzburg.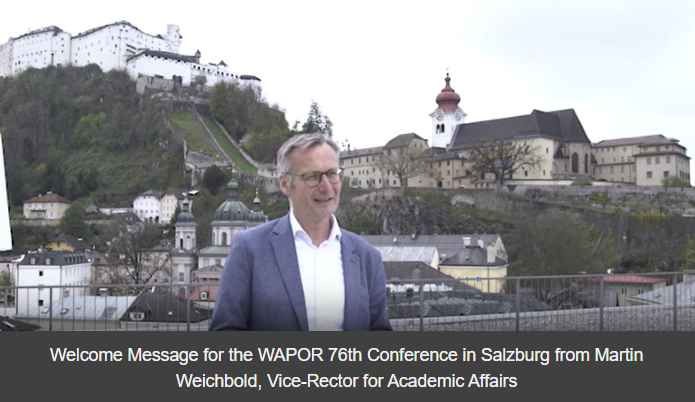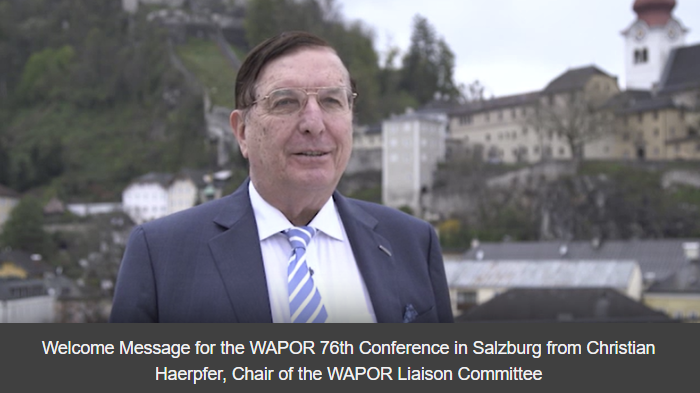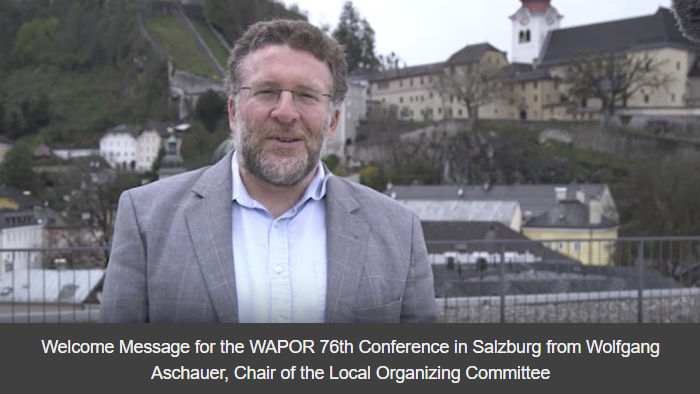 Queries About the Conference