November 2020 Webinar – WAPOR-GBS Joint Webinar: Pandemic, Governance, and Comparative Public Opinion Research

November 20 (Friday), 8:00 AM – 10:00 AM EST
Slides available soon, video HERE
The joint webinar of the World Association for Public Opinion Research (WAPOR) and the Global Barometer Survey (GBS) took place on November 20 (Friday) at 13:00-15:00 GMT (08:00 to 10:00 EST).
The theme of the webinar was, "Pandemic, Governance, and Comparative Public Opinion Research".  The focus of the webinar was two-fold: first, speakers discussed the methodological as well as practical challenges and innovations in public opinion research in the face of the great lockdown caused by the corona-pandemic. Second, the presenters addressed the emerging research agenda on state capacity and good governance discussing over what are the most useful existing indicators in understanding the effectiveness in national response to the covid-19 crisis as well as capturing the socio-political impact of covid-19, and what are the emerging issues and variables that ought to be incorporated into our future comparative research, such as the fragility in the current globalized free market system, the inadequate investment in the state, and the glaring social inequality that the pandemic has dramatically exposed.
Topics covered issues and challenges of public opinion research in times of pandemic, based on the survey research experience of regional barometers – members of the Global Barometer Survey group – in East Asia (Asian Barometer); South Asia (South Asian Barometer); Eastern Europe and Post-Soviet Eurasia (Eurasia Barometer); Sub-Saharan Africa (Afrobarometer); Latin America (Latinobarometro) and Middle East and North Africa (Arab Barometer). 
Moderators:
Yunhan Chu, Director of Global Barometer Survey and Professor at National Taiwan University.
Kseniya Kizilova, Head of Secretariat at the World Values Survey Association and WAPOR Chair of Liaison Committee.
Speakers:
Min-hua Huang (Taiwan), Co-Principal Investigator at Asian Barometer and Professor at the Department of Political Science of National Taiwan University.
Sandeep Shastri (India), coordinator of South Asia Barometer and a Pro-Vice- Chancellor of Jain University and Director of its Centre for Research in Social Sciences and Education.
Christian Haerpfer (Austria/UAE), Director of Eurasia Barometer and Professor of Sociology in the Department of Government and Society at the United Arab Emirates University.
Boniface Dulani (Malawi), Director of surveys at Afrobarometer and Senior Lecturer and Project Research Coordinator at the University of Malawi.
Marta Lagos (Chile), the founding director of the Latinobarómetro Corporation and Co-Chair of the Global Barometer Survey.
Michael Robbins (USA), Director of Arab Barometer and Research Fellow at Princeton University.
Slides will be available soon.
Watch HERE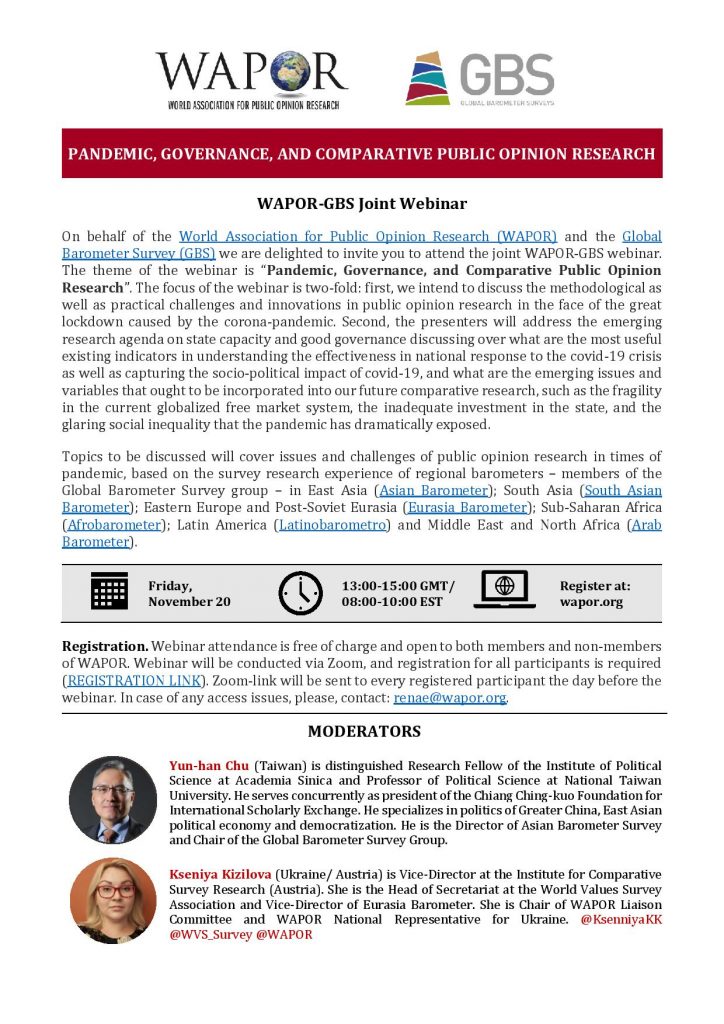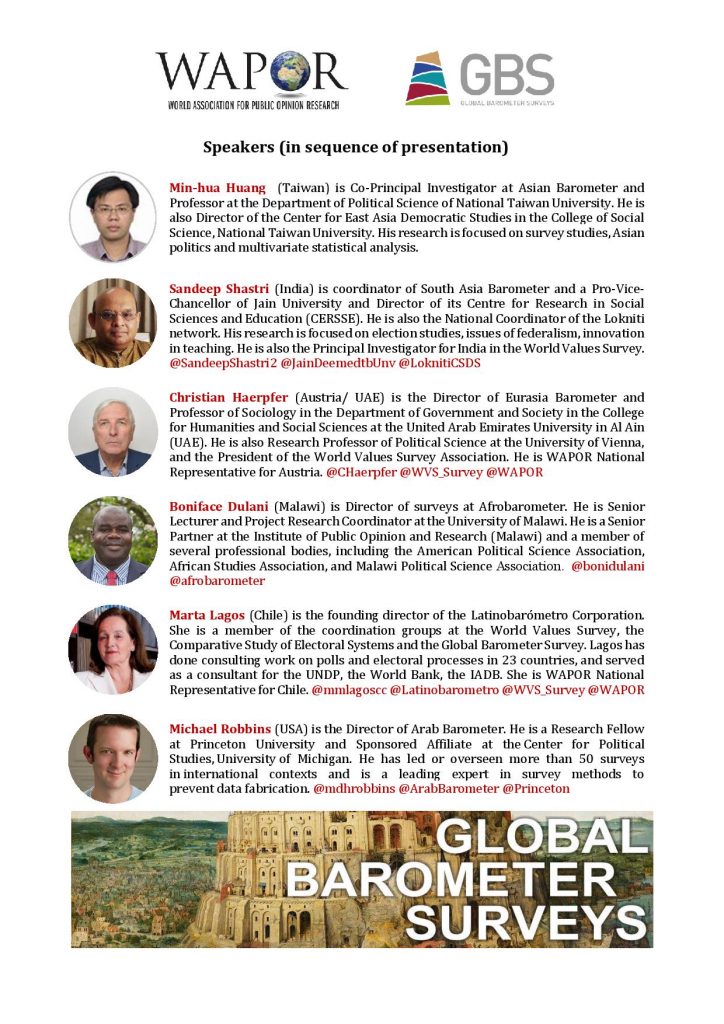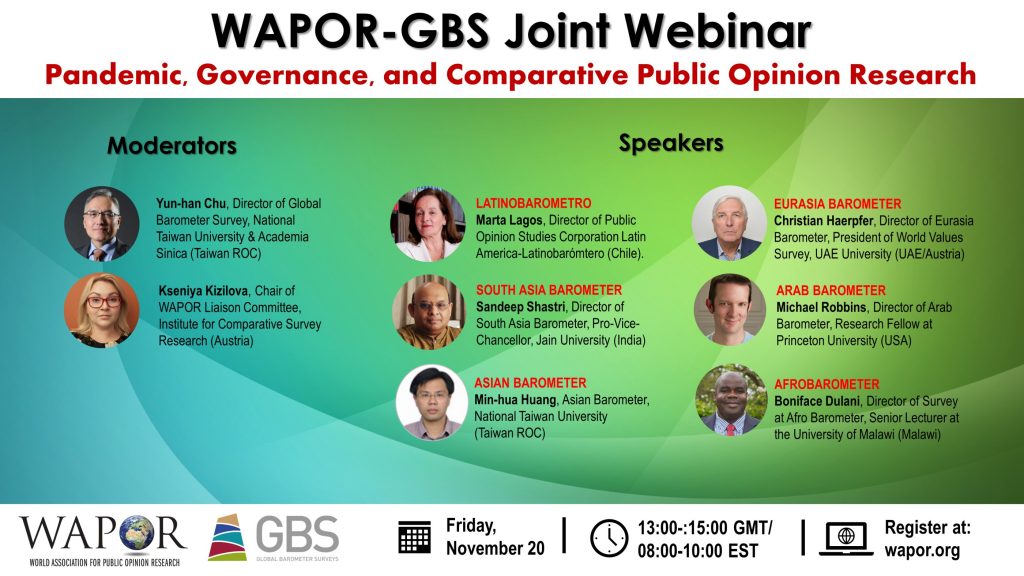 September 2020 Webinar – Advances in Comparative Survey Methods
September 15 (Tuesday), 9:00 AM – 10:30 AM EDT
Slides available below, video HERE

The development of Multinational, Multiregional, and Multicultural (3MC) survey research methodology continues to expand worldwide as a field of inquiry. WAPOR hosted a webinar that explored several areas of active 3MC methods research that included presentations from four distinguished investigators who contributed chapters to the recently published book "Advances in Comparative Survey Methods" (Wiley, 2019).
Topics Covered: 
Improving 3MC Comparability Using the Total Survey Error Paradigm
How to Choose Interview Language in Different Countries
Examining Translation and Respondent's Use of Response Scales in 3MC surveys
Data Harmonization, Documentation, and Dissemination
About the presenters:
Anna Andreenkova (Russia) is Professor of Sociology and Deputy Director of the Institute for Comparative Social Research (CESSI) in Moscow. She also now serves as WAPOR National Representative for Russia.
Tom W. Smith (U.S.) directed the General Social Survey at NORC at the University of Chicago from 1974-2020 and was WAPOR President from 2011-12. He also now serves as WAPOR National Representative for the United States.
Irina Tomescu-Dubrow (Poland) is Professor of the Institute of Philosophy and Sociology in the Polish Academy of Sciences (PAN) in Warsaw, and program manager of CONSIRT of the Ohio State University and PAN. She also now serves as WAPOR National Representative for Poland.
Ting Yan (U.S.) is Associate Director with Westat, Inc. in Rockville, Maryland and Research Assistant Professor with the Joint Program in Survey Methodology at the University of Maryland and Program in Survey Methodology at the University of Michigan. She also served as the co-Editor-in-Chief of the Journal of Survey Statistics and Methodology from 2016-2020.
Tim Johnson, vice president/president-elect of WAPOR, moderated the webinar.
Watch HERE
Introduction SLIDES
Tom W. Smith SLIDES
Anna Andreenkova SLIDES
Ting Yan SLIDES
Irina Tomescu-Dubrow SLIDES
July 2020 Webinar –

Mixed Mode and Mixed Device Surveys: Why, When, and How


July 9 (Thursday), 9:00 AM – 10:30 AM EDT 
Slides available below, video HERE

The COVID-19 pandemic changed and will go on changing survey research, in particular the data collection modes to conduct surveys.  Social distancing implies limiting interviewer impact and more creative use of self-administration. Mixed mode surveys are not new but they are becoming necessary in the current situation. Especially mixed mode surveys with an online component included offer many advantages, but also challenges. One of the challenges is the use of mixed-devices (smartphone, tablet) to complete an online questionnaire.   

This webinar brings together two survey researchers who are well-known specialists of the use of mixed modes and mixed devices in survey data collection. Edith de Leeuw and Anne Elevelt will present why, when, and how to use mixed mode and mixed device surveys. They will address problems that we are likely to face when using mixed mode and mixed device designs and review Current Best Practice solutions. 

About the presenters:
Edith de

 Leeuw

 is professor emeritus

 in survey methodology and statistics at Utrecht University

.

 

She is a

n

 expert in mixed mode surveys and 

survey

 nonresponse and

 has over 150 scholarly publications

. She was

 co-editor of 5 internationally renowned books on survey methodology

. 

In 2017 Edith received the WAPOR Helen 

Dinerman

 prize for lifetime 

co

ntributions to the field of public opinion and the ESRA award for outstanding services to survey research, the highest honors given by these organizations.

 

Anne 

Elevelt

 

is a PhD candidate in survey methodology 

at

 the Department of Methodology and Statistics

 of Utrecht University

. Her research focuses on nonresponse and measurement quality in smartphone-only survey research and sensor data collection

. She has published in Social Science Computer Review and Survey Research Methods and has been an invited speaker at the Leibnitz Institute fur 

Sozial

 

Wissenschaften

 and the 

ESRA

 conference

. She has taught survey 

methodology 

courses at Utrecht University

, as well as short courses and webinars o

n mixed device use 

at international programs.

 
Claire Durand, past president of WAPOR, moderated the webinar.
Watch HERE
Edith de Leeuw SLIDES 
Anne Elevelt SLIDES

June 2020 Webinar – COVID-19: How We Ask Questions, Collect the Data and What Do We Learn? 
June 4 (Thursday), 9:00 AM – 10:30 AM EDT 
Slides available below, video available HERE
At the time of the pandemic hundreds of surveys have been conducted and disseminated around the world.  Public opinion researchers from different countries put their best efforts to collect the data on people's reaction to fast changing circumstances.
This work has been challenging in many ways. The pandemic has disrupted the regular data collection process almost everywhere; the survey topic is completely new to researchers as much as to the public; the situation has been changing extremely fast and remains not very predictable. At the same time when fighting the pandemic is about a collective action understanding the public perceptions is of vital importance.
At the webinar we invite colleagues to share their experience of conducting research about the pandemic in their countries and regions and discuss the following questions:
What aspects of public moods do they measure and what questions do they use?
How do they collect data in the time of pandemic, what are the challenges?
What are the most interesting findings?
What has changed in public moods and what change is yet to come?
About the presenters:
Yulia Baskakova, International Projects director at Langer Research Associates (USA), formerly VCIOM (Russia), will moderate the webinar.
Watch HERE
Constanza Cilley SLIDES
Gary Langer SLIDES 
Wai Yu See Toh SLIDES
Torbjörn Sjöström SLIDES 

May 2020 Webinar – Changes in Survey Research in Times of COVID-19
This webinar brought together survey researchers from different parts of the world who shared with attendees how COVID-19 has changed and will likely change their survey research operations, which challenges they face in data collection, and which solutions they have adopted. The focus was on what we need to care about when changing modes, whether adopting telephone polls or online polls.
Watch HERE
About the presenters:
Claire Durand, past president of WAPOR, moderated the webinar.
Watch HERE
Angela Ambitho SLIDES
Yashwant Deshmukh SLIDES
Ignacio Zuasnabar SLIDES

September 2019 Webinar
WAPOR offered our first webinar this past September. Presented by Dr. Zeina Mneimneh and Julie de Jong (M.S.), the presentation showcased two resources facilitated by the Survey Research Center International Unit at the University of Michigan, which are freely available for use by researchers and survey practitioners. The first resource is a series of online video short courses which provide introductory and foundational background for topics related to key stages of the survey life cycle and challenges faced in international surveys. The second resource is the Cross-Cultural Survey Guidelines, developed to promote internationally recognized best practices for the design and implementation of multinational, multicutural, and multiregional (3MC) surveys, covering all stages of the survey life cycle.