Tom Smith Honored with Inaugural Norman Bradburn Career Achievement Award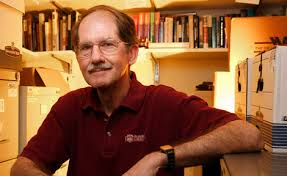 Tom W. Smith is the first recipient of NORC at the University of Chicago's newly created Norman Bradburn Career Achievement Award. The award was established to recognize individuals who, through the course of working for NORC, have made a significant contribution to the field of social science research or methodology. For the past 35 years, Smith has been the director of the General Social Survey, one of NORC's most visible projects and one of the nation's most heavily utilized datasets. Smith also directs NORC's Center for the Study of Politics and Society.
"The Bradburn Award was created to honor those who have made a serious contribution to our field, so it is fitting that Tom Smith is the first recipient," said Dan Gaylin, president and CEO of NORC at the University of Chicago. "Smith is the director of the General Social Survey, the co-founder of the International Social Survey Program, he has published numerous articles in peer-reviewed journals, and is frequently quoted in the news media, providing vital insights to leading reporters on some of the most important issues in American life."
Tom W. Smith was honored at NORC's fall 2015 Board of Trustees dinner. As part of the award, his name will be inscribed on the Norman Bradburn Career Achievement Award plaque, and he will receive a cash award and enjoy a two-week paid sabbatical to explore new ideas, research, and write.
Smith is a prolific writer, analyzing and publishing the results of his studies in peer-reviewed journals and NORC-published reports aimed at students, scholars, and policymakers. In addition, he serves as a referee for several peer-reviewed journals, including the American Journal of Sociology and Demography, and is a member of the editorial board of the International Journal of Public Opinion Research. Smith is editor-in-chief of Public Opinion Quarterly.
"I am deeply honored to receive this award. This means so much to me because NORC itself means so much to me. It has been my professional home and family for 42 years," said Smith. "It is a privilege to be associated with Norman Bradburn's achievements. His work and career epitomize the importance of careful survey methods in conducting valid and reliable social science research in general and studying societal change in particular. He is an unparalleled survey methodologist and a leading substantive researcher, especially concerning psychological well-being. This is an honor."
The highly selective award has been named after Norman Bradburn, who has provided continuing leadership, guidance, and inspiration in many capacities to many colleagues at NORC for more than five decades. Bradburn's career encompasses the highest levels of accomplishment in research and scholarship, teaching, university administration, and public service. Bradburn continues to inspire, mentor, and challenge social scientists both at NORC and throughout the field.
Smith has received numerous other awards, including the AAPOR Innovators Award, 2000 and 2003; the AAPOR Award for Exceptionally Distinguished Achievement, 2002; and the Warren E. Miller Award for Meritorious Service to the Social Sciences, ICPSR/The University of Michigan, 2011. In August 2014, Smith was elected to the Sociological Research Association, an honor society of leading sociological scholars.
Smith earned a PhD in American history from the University of Chicago, and an MA in history, a BA in honors history, and another BA in political science from Pennsylvania State University.
Content contributed by NORC.