Timothy Johnson receives the AAPOR 2023 Exceptionally Distinguished Achievement Award
AAPOR Announces Timothy P. Johnson as the Recipient of the 2023 Award for Exceptionally Distinguished Achievement Award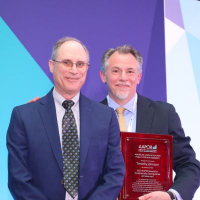 WAPOR Congratulates our Past President Timothy P. Johnson on the 2023 Award for Exceptionally Distinguished Achievement Award!
The AAPOR Award is the Association's lifetime achievement award and is given for an outstanding contribution to the field of public opinion research, including: advances in theory, empirical research and methods; improvements in ethical standards; and promotion of understanding among the public, media and/or policy makers.
Timothy P. Johnson's leadership, scholarship, mentorship, and advocacy have enriched public opinion and survey research for over 35 years. His substantive and methodological contributions, his promotion and enhancement of research standards, and his advocacy for the importance of survey research, are each remarkable in their own right. Collectively, they have profoundly enhanced our entire field.
An enormously productive scholar, Tim's impactful publications, including seven edited volumes and hundreds of refereed articles and book chapters, have advanced the science of survey measurement, improved representation of hard-to-count populations, and produced innovations in cross-cultural methodology. Moreover, his ground-breaking applications of survey data to the study of health behavior, health care, substance abuse, and mental health have reflected his commitment to using social science to promote the common good, particularly the health and well-being of underserved populations.
Tim's generosity to both students and colleagues is legendary. Through decades of teaching and serving on over 80 dissertation committees at the University of Illinois at Chicago, he has developed the methodological finesse of a whole generation of researchers. He has also answered countless calls to serve on advisory, review, organizing and service committees across a wide range of academic and professional institutions.
Tim's executive leadership service across our profession is almost unparalleled, including the presidencies of AAPOR, WAPOR, MAPOR, and AASRO. Across these organizations, he tirelessly protected our professional interests through advocacy for the importance of polls and surveys for informed decision-making and combatting misinformation, as well as promoting establishment of and adherence to strong research standards. His leadership in AAPOR's Transparency Initiative, including development of requirements, training, and outreach plans, and overall implementation of its vision, were essential to its success.
For all his extraordinary achievements and contributions, the American Association for Public Opinion Research is pleased to present the 2023 Award for Exceptionally Distinguished Achievement to Dr. Timothy P. Johnson.