WAPOR Asia was approved by the WAPOR council on July 6, 2016. The chapter name WAPOR Asia was changed to WAPOR Asia Pacific by vote of chapter members and made official on 1 January 2022.
You can see the WAPOR Asia Pacific website here: https://www.waporasia.org/
If you have questions about WAPOR Asia, please contact Yashwant Deshmukh (WAPOR Asia President) (yashwantdeshmukh@gmail.com).
WAPOR Asia 4th Annual Conference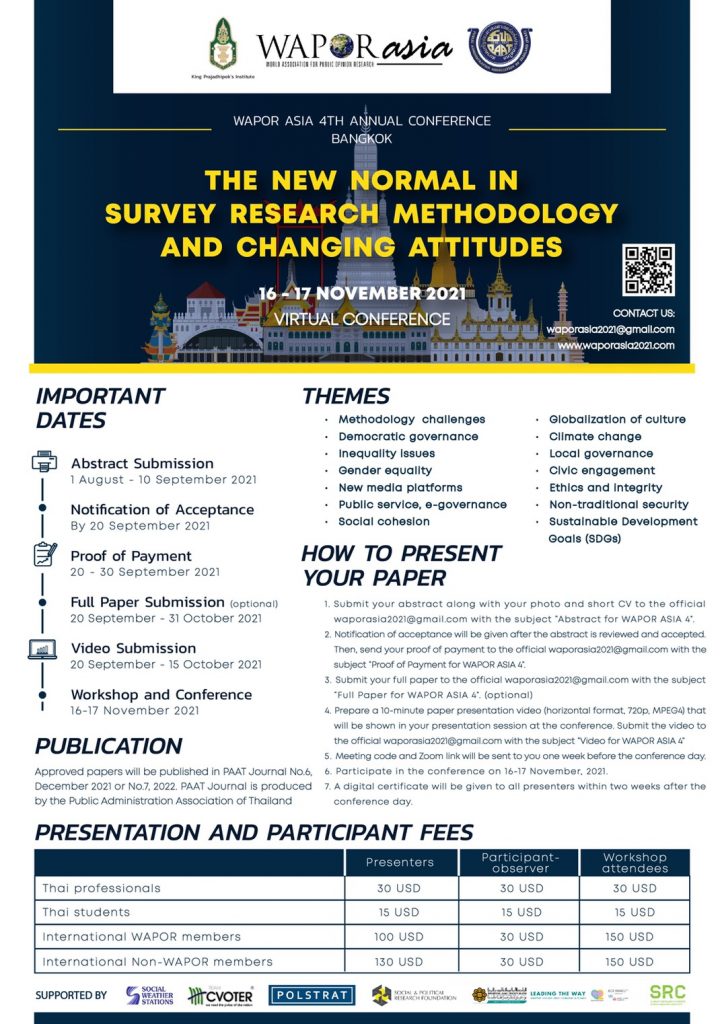 Executive Committee of the Council
President: Yashwant Deshmukh
Vice President & President Elect: Jibum Kim
Past President: Robert Chung
Secretary-Treasurer: Eric Yu
Other Members of the Council
(Local Representatives for 2020-2021, arranged in alphabetical order of country/region names)
Australia: Toni Makkai
Bangladesh: Haq M Saidul
China: Weidong Wang
Cyprus: Panayiotis Panayiotou
Hong Kong: Edward Tai
India: Shalinder Mahajan
Indonesia: Hasanuddin Ali
Iran: Amir Farmanesh
Iraq: Munqith Dagher
Israel: Yariv Tsfati
Japan: Tadahiko Maeda
Korea: Jibum Kim
Malaysia: Syed Arabi Idid
Myanmar: Htun Htun Oo
Nepal: Jui Shrestha
Pakistan: Ijaz Gilani
Philippines: Gerardo (Jay) Sandoval
Qatar: Noora Ahmed Lari
Russia: Yulia Baskakova
Singapore: Chan-Hoong Leong
Sri Lanka: Pradeep Peiris
Taiwan: Eric Yu
Thailand: Thawilwadee Bureekul
Turkey: Bulent Kilincarslan
United Arab Emirates: Titiana Karabchuk
United Kingdom: Colin Irwin
United States of America: Holli Semetko
Appointments Made by the President According to the Constitution
Electoral Committee (2020)
Chair: Robert Chung
Members: Yashwant Deshmukh & Jibum Kim
​WAPOR Asia Lifetime Achievement Award Selection Committee (2020)
Chair: Yashwant Deshmukh (ex officio, WAPOR Asia President)
Members: Jibum Kim (ex officio, WAPOR Asia Vice President), Robert Chung (ex officio, WAPOR Asia Past President), Holli Semetko, Colin Irwin
WAPOR Asia Annual Conference Committee (2020)
Chair: Syed Arabi Idid
Co-Chair: Holli Semetko (ex officio, WAPOR Asia Conference Committee Chair)
Members: Pending
Conference Committee (2020)
Chair: Holli Semetko
Members: Pending
​Media Committee (2020)
Chair: Shiv Sehgal
Members: Pending